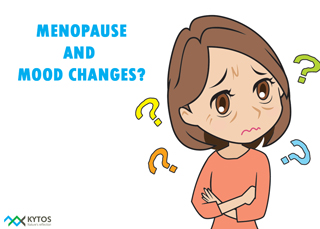 The

HORMONAL CHANGES

 during and after menopause can cause emotions to change quite quickly that is swinging from

JOY

at a moment to

ANGER

the next moment.
It is important to pay attention to your emotions and consider how you are really feeling.
During the menopause transition, general symptoms of

ANXIETY

,

DEPRESSION

, and

MOOD DISTURBANCES

 are common especially in those with severe vasomotor symptoms, sleep disturbance, and surgical menopause.
Decreased interest in most activities
Feeling sad and depressed most of the day, nearly every day
Change in appetite and sleep pattern
Feelings of worthlessness and inappropriate guilt
Difficulty in decision-making
Risk Factors for depression
Physical symptoms such as disturbed sleep, hot flushes and emotional reasons such as negative attitude towards menopause.
Night sweats can disturb sleep and leave many women awake at night, feeling exhausted and experiencing difficulty in clear thinking, leaving them more negative because of lack of quality sleep.
Personal factors can contribute to mood disorders during menopause such as family history or previous episode of depression, personal tendency to worry a lot, lack of self-esteem, long-term or serious medical illness, relationship problems, drug and alcohol problems and poor lifestyle.
Research suggests women who have a surgical menopause and/or an early menopause are more likely to experience a clinical depression caused by all of a sudden change in hormones rather than women who have a 'natural' menopause.
There are many things you can do to improve your mood and reduce stress:

Discuss with your trusted friend or family member or with a doctor
Keep a diary of your symptoms for better understanding
Spend time to look after yourself and do the things you like
Manage menopause with natural and/or scientific medicines
Exercise daily which will improve your physical wellbeing
Learn and practise relaxation techniques
Learn mindfulness to improve your focus in present moment
Check out the symptoms at http://bit.ly/1Qj0i0F and seek help if your symptoms last for more than 2 weeks.
Moderate to severe depression will require antidepressant medication. Severe depression and anxiety can respond to treatment with medication such as antidepressants in combination with counselling therapy from a registered psychologist or psychiatrist. Speak to your doctor to find out the best option for you.
References
Burcusa SL, Iacono WG. Risk for recurrence in depression. Clinical psychology review. 2007;27(8):959-85.

Hickey M, Bryant C, Judd F. Evaluation and management of depressive and anxiety symptoms in midlife. Climacteric. 2012;15(1):3-9.

Gibbs Z, Kulkarni J. Risk Factors for Depression During Perimenopause. Women's Reproductive Mental Health Across the Lifespan2014.

Freeman EW. Associations of depression with the transition to menopause. Menopause (New York, NY). 2010;17(4):823-7.

Gibbs Z, Lee S, Kulkarni J. The unique symptom profile of perimenopausal depression. Clinical Psychologist. 2014.

Clayton AH, Ninan PT. Depression or menopause? Presentation and management of major depressive disorder in perimenopausal and postmenopausal women. Primary care companion to the Journal of clinical psychiatry. 2010;12(1):PCC.08r00747.

Maki PM, Freeman EW, Greendale GA, Henderson VW, Newhouse PA, Schmidt PJ, et al. Summary of the National Institute on Aging-sponsored conference on depressive symptoms and cognitive complaints in the menopausal transition. Menopause. 2010;17(4):815-22.

Ryan J, Burger HG, Szoeke C, Lehert P, Ancelin ML, Henderson VW, et al. A prospective study of the association between endogenous hormones and depressive symptoms in postmenopausal women. Menopause (New York, NY). 2009;16(3):509-17.

Bromberger JT, Kravitz HM. Mood and menopause: findings from the Study of Women's Health Across the Nation (SWAN) over 10 years. Obstetrics and gynecology clinics of North America. 2011;38(3):609-25.

American Psychiatric Association. DIAGNOSTIC AND STATISTICAL MANUAL OF MENTAL DISORDERS FOURTH EDITION. 2000.

Ayers B, Forshaw, M., Hunter, M.S. The impact of attitudes towards the menopause on women's symptom experience: a systematic review. Maturitas. 2010;65(1):28-36.

Will MA, Randolph JF. The influence of reproductive hormones on brain function in the menopausal transition. Minerva ginecologica. 2009;61(6):469-81.

Mood and Menopause