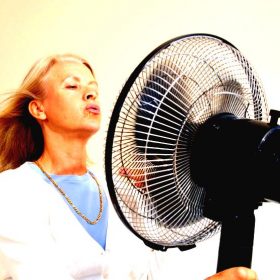 Hot flush and night sweats are common menopause symptoms and occur in up to 80% of women. In Australia, an average age for menopause is around 51 years, ranging between 40 and 50s.
During menopause, the ovaries will slow their production of the female hormones such as estrogen and progesterone which will eventually stop releasing eggs.
Most women will experience a few mild symptoms as the levels of these hormones will start dropping in their body. However, for some women, these symptoms can be severe and they can affect their health and well-being.
How long does Hot Flush last for?
Hot flush can last 2–4 minutes (or longer), and may occur multiple times per day or as infrequently as once a month. You may experience hot flush symptoms for 6 months to 2 years. Some reports suggest that hot flush can last considerably longer for up to 10 years, depending on the age of onset.
Hot flushes and night sweats are uncomfortable and can alter sleep patterns leading to tiredness and fatigue. In addition, some women find their excessive flushing and sweating turns social occasions into awkward and unpleasant experiences. Some hot flushes are easily tolerated, some can be annoying or embarrassing, and others can be debilitating.
It is common for women to experience a recurrence of hot flushes more than 10 years after menopause, even into their 70s or beyond. There is no reliable way of predicting when they will start and stop.
Why does Hot Flush occur?
The exact cause of hot flush is not fully understood yet. There are some theories which researchers have assumed behind it.
Your estrogen level will decrease during menopause. It has a direct effect on the hypothalamus which is the part of the brain responsible for controlling appetite, sex hormones, sleep, and body temperature. The hypothalamus may mistakenly sense that you are too warm which will begin events to cool your body temperature.
In response to that, your blood vessels near the surface of your skin will begin to dilate (enlarge). This will increase blood flow to the surface in an attempt to control body heat. It will produce a red, flushed look to the face and neck especially if you are light-skinned. It may also make you perspire to cool the body down. Your heart may beat faster, and you may sense that rapid heartbeat.  A cold chill often follows a hot flush however only a few women experience the chill.
What are the most common signs and symptoms of hot flush?
The following are the most common signs and symptoms of hot flushes:
Sudden and intense feelings of heat in the face, neck, arms, torso, and sometimes the entire body.

Some women also experience palpitations (racing heart).

Sweating ranging from mild to profuse. Cold chills will often follow hot flushes, though some women will only experience the chill.

Sleep disturbances are characteristic of hot flush that occur at night, which are also known as night sweats. Estrogen levels are often lowest at night, which is why women will often experience nocturnal hot flushes.

Other Symptoms are nausea, dizziness, anxiety, and headaches etc.
While each woman will experience the symptoms of hot flush in a pattern that is unique to her, some women are at a greater risk for more severe and prolonged hot flushes. Additionally, women who go through rapid menopause will often experience hot flushes more severely and for a longer duration.
Is menopause the only cause of hot flush?
Not always.
Other medical conditions such as thyroid disease, infection, or (rarely) cancer can cause hot flashes too.

Drug therapies such as tamoxifen for breast cancer, raloxifene for osteoporosis, and some antidepressants produce them as well. Don't assume that menopause is the only cause of hot flush.
If it's unlikely that menopause is the cause or if you notice any other unusual symptoms, please consult your healthcare provider.