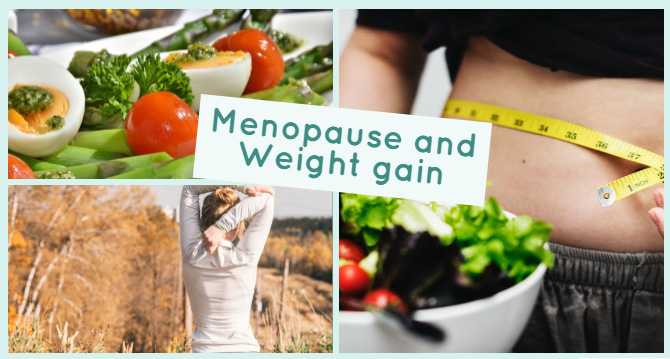 During menopause women often deal with complex physical and emotional challenges with some unwanted changes such as menopausal weight gain, hair loss and vaginal dryness.
Weight gain is one of the most common and probably the most frustrating symptoms of menopause affecting for up to 90% of menopausal women.
There are other clear factors which may affect and increase chances of menopausal weight gain such as diet, exercise, some medications or any other underlying condition.
The most unwanted part of menopausal weight gain is the distribution of fat to the abdominal area. Unfortunately, menopause-associated weight gain does not evenly distribute throughout the body. You may find that even though your diet and lifestyle has not changed for many years, you are noticing the number on the scale is increasing. Also, for some women, the number may remain the same with fat building in the midsection giving pear or apple shaped look.
It is very important to manage the unwanted weight gain as it can lead to some serious health risks.
The weight gain may vary depending upon one's built but usually average is from 5-10 pounds. Already overweight women are more likely to get affected.
It is very important to try to achieve and maintain a healthy weight because excessive weight gain is associated with many comorbidities which can affect the quality of life.  By understanding why weight is increased due to menopause may help to build better strategies to overcome and prevent this symptom.
Risks associated with weight gain:
Weight gain happens when body mass increases due to increase deposition of fat, the building of muscles or excessive fluid in the body. Generally, women will realise and feel that they have gained extra weight, however, there are some symptoms which are mostly associated with weight gain and may affect your health and lifestyle.
They are symptoms such as:
Rashes in skin folds

Excessive sweating

Sleep apnoea and disturbances

Breathing difficulties and shortness of breath
Physical changes in weight gain affect a woman's self-esteem, relationships and increases chances of depression.
Chances of developing several chronic conditions may increase which may be troublesome in future:
More severe hot flushes

High blood pressure

Heart disease, stroke

Insulin resistance and type 2 diabetes

High cholesterol

Breast cancer

Osteoarthritis

Sleep apnoea

Kidney dysfunction

dementia
Increased weight and associated conditions relate more to ageing than to menopausal changes. Decreased lean muscle mass with age and less physical activity, results in burning fewer calories building up excess weight.
This is the reason why the same lifestyle and diet may not help to prevent age-related weight gain.
Estrogen role:
Fall in reproductive hormone levels mainly estrogen, tends to affect body fat distribution and shifts fat to the midsection. Some research suggests that when estrogen level decreases in the body, body tried to make estrogen from other sources.
Although the exact mechanism is still unclear, fat cells can produce estrogen. Hence, the body converts excess calories into fat with an intention of increasing estrogen levels. This extra fat does not burn easily and leads to weight gain.
Decreased progesterone is linked to water retention and bloating (not causing actual weight gain) which may make a woman feel heavier.
Other menopause-related factors which play a role include:
Vasomotor symptoms such as hot flushes and night sweats cause sleep disturbances eventually leading to tiredness leading to poor adherence to an active lifestyle. Taking some extra rest may look more interesting when you do not sleep well.

Menopausal mood swings are very common and may affect dietary and exercise habits.
There are some other causes of weight gain at this age which may not be related to menopause.
Hypothyroidism: Fewer calories are burnt as under activity of the thyroid gland slows down metabolism

Increased stress: Stress hormone cortisol is associated with increased appetite and weight gain

Excessive alcohol

Reduced physical activity and reduced intensity of physical activity due to age

Medications which can cause weight gain such as some antidepressants

Chemotherapy

Changes in dietary habits and lifestyle, i.e. eating out or takeaways

Family history

Number of children

Family or environmental changes which can be stressful
Weight gain can be managed by adapting to an active lifestyle, choosing the right diet and controlling menopausal symptoms with alternative or other medicines to improve related symptoms.
1. Focus on your diet
Exercise only will not help to lose weight but watching your calories alongside will help to achieve as well as sustain a healthy weight. Do not do drastic changes or follow popular diet trends, rather choose a diet which is suitable for your lifestyle and you can follow rightly.
Divide 3 meals into 5 parts for better results. This will reduce temptation to snack.
Fill diet rich with fibres and low carbohydrates.
Controlling the portion (e.g. use smaller plates!) will help.
2. Exercise
A regular aerobic exercise of moderate physical activity for at least 30-60 minutes on most days will give a boost to your metabolism. Strength training under supervision may help to build muscle mass and will make bones stronger.
Stretching and yoga may help to reduce waist circumference. Working out with a friend or partner will sometimes help to improve adherence to exercise program.
3. Watch you drink
Rather than a fruit juice which is high in sugar and low in fibre, choose nuts or whole fruit as a snack.
Limit your alcohol intake. It will only make your health and diet plans worse.
Reducing the amount of sugar in tea or coffee will also help to cut down some extra sugar. 
Accepting the age related changes positively and persistently working towards lifestyle changes will definitely help to achieve a healthy body.
Even after making healthy lifestyle choices some women still have trouble with menopausal and age related changes. If you continue to gain eight after adapting to healthy dietary and lifestyle changes, consult your doctor to exclude any possibilities of any underlying medical condition.